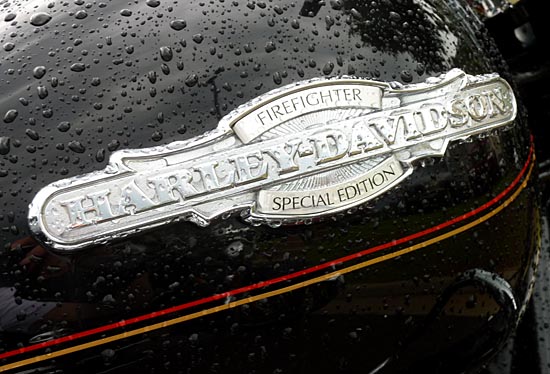 Rain on the Harley-Davidson FireFighter Special
It was a wet day. In fact, it was a very wet day. We delayed our start in the hope that the weather might clear a little and also give EagleRider, who were sharing the same hotel, a head start so we didn't get mixed up with them. I took the opportunity to take photographs of a wonderfully restored 1956 Ford Thunderbird on a trailer in the hotel car park. I couldn't get a shot of the whole car because the trailer was in the way so I concentrated on detail shots.
The weather didn't clear much and so we moved out in our wet weather gear ahead of EagleRider who were suffering from a couple of bike failures. The rain was interspersed with spells of even heavier rain making it a less than pleasant ride. I soon discovered that the waterproof overjacket that came with my Spada jacket is really a showerproof jacket and not a heavy duty rain jacket. The water seemed to permeate through and my tee shirt was soaked. Françoise was wearing her jacket and had the same experience. Also, I had that cold wet feeling in my nether regions meaning that my old waterproof trousers were close to retirement. Water seemed to get into our helmets even though we closed the air vents but since much of the helmet interior is polystyrene, it dried quickly. However, it seems that the N-COM communication system got wet and it packed up. My microphone was wet due to water splashing up under the visor. We had earlier removed the chin bar for greater air flow and convenience but subsequently decided that the chin bar was a good option in the wet since it helped to keep the face and microphone dry. However, all was well the following day after everything had dried out.
I had bought some cheap (£15) leather summer gloves from Hein Gericke that I didn't mind getting ruined if it rained. The only problem was that they became soaked and were thus difficult to put on. Also, when wet, some lining material came adrift and trapped my fingers making putting them on or taking them off difficult. Gary loaned me a pair of industrial gloves which he said gave good grip in the rain. The size was right and they gripped OK but they weren't waterproof. In fact, they soaked up the rain like blotting paper and due to the raised handlebar height of the Harley, I found the water running down inside my jacket sleeve and settling at the elbow. It was amusing to take the gloves off at each stop and wring them out like a dishcloth.
The forecast was for heavy storms, floods and tornadoes over Oklahoma. Gary was in the support vehicle and had a laptop computer hooked up to receive the weather radar service to see what was happening. His concern was two-fold – even on the outskirts of a tornado (which you wouldn't want to be near anyway), the winds can be high with hail the size of golf balls and, secondly, with such heavy cloud and poor visibility you wouldn't know where the tornado was anyway. He was also keen to keep us out of the thunderstorms. Weather systems in the States tend to be quite severe and are to be taken seriously. Throughout the day we came across many roads that were blocked by flood water or the bed of the road had been undermined by the flooding and the road had washed away. We had to make several detours. Again, thanks to Gary's knowledge and the well-equipped support vehicle we made it through.
At our fuel stop, the garage forecourt was a stream of water with puddles several inches deep. We went into the café area and had coffee and a cake while we waited for it to improve. Gary saw that, if anything, it was going to get worse and we'd have to move out. We bypassed Oklahoma City. Even though Route 66 goes through it, much of the old road has been built on, the traffic would be heavy and, as we subsequently learned, the City had enormous problems with flooding. It had 10.5 inches of rainfall between 6am and 2pm which was the highest daily rainfall for 65 years.
Eventually, we got to Chandler to see the Route 66 Interpretive Center housed in a former armoury. We dumped our soggy gear in the corridor of the museum and spent some time looking around and taking photographs. The gift shop provided further temptation to get out wallets and purses, not least to buy the many postcards we had to send.
Our next stop was for lunch in a sandwich bar called Jimmy John's. We had a leisurely lunch and Françoise and I took shots of the interior decorations and signs. Françoise has lots of photos many of which are different to mine but this blog only contains my photos for now until she gets round to sorting them out and I find a way of hosting her photos here too.
We attempted to make further progress towards Weatherford, our stop for the night, but the storm intensifies (lightning and heavy cross-winds). Françoise disliked riding in the cross-winds but the lightning was even worse and made her intercom pop and crackle – she thought that it was going to explode. Gary got us off the road into another café where many of us fancied a hot coffee to warm us up. Surprisingly, this café had no coffee! Again, we amused ourselves with our cameras until Gary told us that we had to move on again as there was another storm front coming in. Fortunately for us, the weather started to improve the further west we went.
Before arriving in Weatherford, we crossed the William H. Murray Bridge ("one-mile bridge") which spans the south Canadian River. This bridge is nearly 4,000 feet long and has 38 spans. It was a 1930s engineering marvel. This changed the alignment of Route 66 and bypassed Calumet, Geary, and Bridgeport which soon became ghost towns. As was often the result with such modernising projects, the new road was soon lined with commercial start-ups ranging from service stations and cafés to motor courts. This segment of Route 66 flourished until the construction of a new alignment further north in 1962.
That evening I went to Walmart with Gary to buy new waterproofs for myself and Françoise, a gel seat pad for Françoise so she doesn't keep sliding on the pillion seat, and a universal charger for her Palm One. The Palm contained important addresses for postcards and she thought that she had charged it before leaving the UK but it seems that she plugged in the wrong charger and it wasn't charged at all. I do wish manufacturers would adopt a single universal charger for all devices – it would make life so much easier! While I was shopping. Françoise busied herself with drying out our gear. The helmets were easy to dry but the gloves would take some time (several days in fact). We got back from Walmart too late to eat in a restaurant and so we find the number for the local pizza parlour. We order pizzas to be delivered to our room along with a half gallon of raspberry lemonade. The pizzas were good. It's been a tough day and we are tired so we retire soon after eating and look forward to better riding conditions the next day.

Note that the photo gallery spans several pages – click on the page numbers below the thumbnails on the Photo Gallery page to see more pages of images.
Next: Day 6: Show Me The Way To…