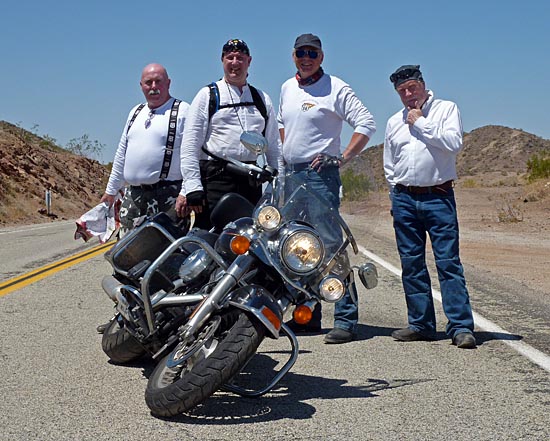 Wild Hogs 2010
After having breakfast in town (there is no restaurant in the hotel), we move out of Santa Fe and continue our journey. Today's destination is Gallup but our first stop is not far away in a small town called Madrid where the film Wild Hogs starring John Travolta was filmed. We visit Maggie's Diner in Madrid (featured in the film) which actually isn't a diner in real life and neither is it run by somebody called Maggie. The diner was actually built for the film and is now a retail shop selling gifts, t-shirts and things to do with the film. The film was made in 2006 and released in 2007 to negative reviews. However, that didn't stop it making $253.6m!
The rest of Madrid was interesting to look at but much of it was geared towards the tourist trade. I did find one old house that hadn't been touched in years. Like most of the houses here, it was a pre-fabricated timber construction and brought in by railroad in about 1870 as three sections and bolted/nailed together on-site. This particular house has been with the present owner for the past 30 years and he doesn't want to alter it in any way. So, it is slowly rotting away except for the new roof which he obviously needed if he wanted to remain living in the house. I gleaned all this from a local who who was keen to tell me the story.
Our next stop was Alberqueque. This is quite a large city and we passed many signs for long gone establishments on the way through. We made our way to the old town for lunch in a very civilised restaurant known to Gary. In fact, we had a table reserved on a shady part of the patio where we all relaxed over a leisurely lunch.
Just outside of Alberqueque we stopped before a large bridge which Gary explained was the bridge crossing the Rio Grande. We took our cameras and followed the footpath but, to be honest, it was a little disappointing when we got there. It was hardly 'Grande' at all. The water level was quite low and it looked rather muddy. Maybe they should have called this the 'Big Muddy' instead of the Mississippi. I can just see John Wayne there now looking a little embarrassed with his horse stuck in the mud.
Further down the road we stopped at an old and overgrown garage that once used to belong to the Whiting Brothers. Very little is left of it and Gary warns us once more to be aware of rattlesnakes as we stroll around with our cameras. The Whiting Brothers were a well-known name along Route 66. When the road was first built they used lumber from their father's business to construct a gas station. Many others followed and as profits increased, their sites added cafés, grocery stores and even motels. Like many other establishments, they suffered from the opening of the Interstates and the company folded in the 1990s.
Before reaching Gallup, we make one more stop for an ice-cream, though in my case it was a coconut milkshake. I have to admit that I had two – they were fantastic.
Our stop for the night was at the El Rancho hotel, a very characterful independently-owned hotel. Though our room was good it was, unfortunately, a smoking room and suffered from an overpowering smell of stale tobacco smoke. We asked if we could change rooms and we were given another room on the ground floor. This turned out to have two single beds and a very small bathroom. At least it didn't smell, but was perhaps the poorest hotel room of the trip. We accepted the room – it was for one night after all.

Note that the photo gallery for today spans several pages – click on the page numbers below the thumbnails on the Photo Gallery page to see more pages of images.
Next: Day 10: Standin' on the Corner