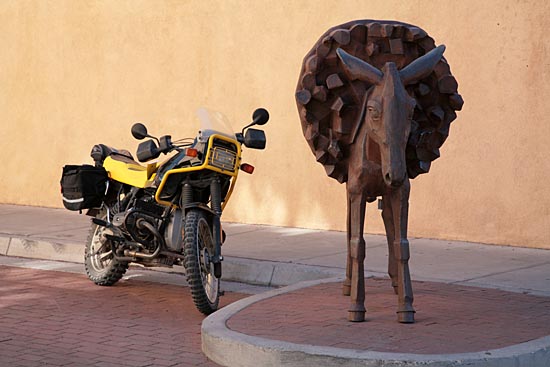 Bike and Burro, Santa Fe
There was no rush to get up today but we did so anyway as we wanted to catch the early morning light which was casting some great shadows. Since the hotel had no restaurant we had to go out for breakfast and so we took our camera gear with us. We wandered around photographing the buildings, people where we could (the Indians didn't like to be photographed) and shop window displays. The Azuni and Navajo Indians selling jewelry outside the Palace of the Governors were quite photogenic but they all shied away from being photographed. After an hour or so we found a French style café called the Café de Paris and decided to stop for breakfast there. It was served outside under large parasols and was most relaxing. We spent more time taking photographs before heading back to the hotel. We then visited the library close to the hotel so Françoise could use the Internet terminals to respond to e-mails which required more typing than was practical on my iPhone. In the meantime, I started writing postcards as the charger I had bought in Walmart had done a good job and successfully charged Françoise's Palm to recover the addresses.
Since we had had a latish cooked breakfast, we skipped lunch and met up with Gary, Bill, Simon and Viv to go shooting. This was not part of the tour – it is actually Gary's day off but as he was going to Tina's Range Gear anyway, he thought it would be an interesting thing for us to do since, after the Dunblane tragedy, it is no longer possible to own or shoot a handgun in the UK. After having never fired anything more powerful than a .22 rifle in my teens and knowing that I was a better shot than my two army-trained brothers, I thought I'd give it a go. Gary is a fully-qualified firearms instructor and gave us a comprehensive safety briefing beforehand. He also closely supervised us during the shooting. We had the chance to fire several rounds with a Smith & Wesson .38 Special revolver and a Glock ACP semi-automatic pistol as well as a few rounds with a Smith & Wesson 629 .44 Magnum. Viv went along with Simon but was a little apprehensive and decided not to shoot after hearing how loud the first few shots were (even with ear defenders, and eye protection of course). Françoise enjoyed herself and turned out to be a good shot, as did Bill. It was a different experience and one we have to thank Gary for. As Gary said, we might not shoot again but if we did come across a situation where we had to take charge of a handgun, at least we would know how to handle it safely.
On the way back to the hotel we dropped into another Walmart for some odds and ends. I tried to convince Gary that Walmart was almost as big as Tesco in the UK… We went into town together as a group once more for dinner that evening where we all recounted tales of how we spent the day.

Note that the photo gallery spans several pages – click on the page numbers below the thumbnails on the Photo Gallery page to see more pages of images.
Next: Day 9: Wild Hogs on the Loose