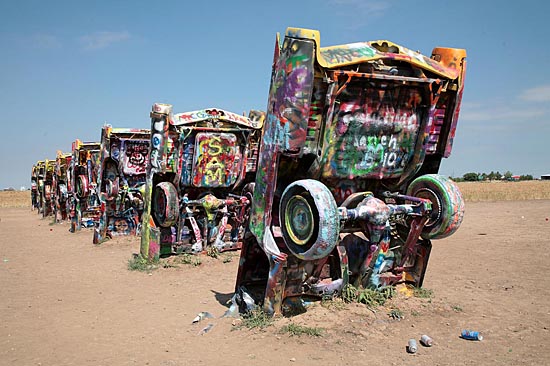 The Stanley Marsh sponsored art exhibit 'Cadillac Ranch'
Gary warned us again about the right of way for traffic entering and leaving the Interstate that runs parallel to Route 66. In Texas that means that cars may cut straight in front of you even if you appear to be on the main road. It's a killer system and we have to keep our wits about us. It's easier to see in practice than to explain it in words.
Our first stop of the day was at Tripps, the H-D dealer in Amarillo for a chance to buy other H-D goodies for those into such things. It was also good to look at the bikes. I have to agree that Harleys look good as a bike. In fact, I'd rather look at a Harley than ride one. Harleys have form but their function is from a bygone era while Japanese bikes have function but very little form. Maybe only BMW combine the two with some degree of success but I digress…
Just outside of Amarillo is the Cadillac Ranch, perhaps one of the more well-known off-beat art exhibits in the US. It was created in 1974 by a group of artists called Ant Farm and installed on land owned by Stanley Marsh, a local millionaire and patron of the arts. There are ten Cadillacs here planted nose down into the soil facing west and at an angle corresponding to that of the Great Pyramid of Giza. The cars date from 1949 to 1963 and represent a number of evolutions of the car line, most notably the birth and death of the defining feature of early Cadillacs – the tail fin. The cars are covered in graffiti and vistors are positively encouraged to add their own. Consequently, it is a continually evolving artwork. It has been re-painted a number of times – once in pink to mark breast cancer awareness, once in white for a TV commercial, once to their original colours for a special Route 66 event, and a few times in flat black. The new paint barely lasts 24 hours without fresh graffiti appearing. The exhibit was moved from its original location to it's present site in 1997.
Next we had a longish ride to Adrian which is at the mid point of Route 66 and we posed in front of the sign for a group shot. Adrian is 1139 miles from the start of Route 66 in Chicago and 1139 miles from its end at Santa Monica. Next, we were over the road to the Midpoint Café where we had cinammon rolls and coffee. Since we skipped breakfast that morning, this went down rather well. The café had other tempting food and I succumbed to a portion of coconut cream pie – that was absolute heaven! All the food is freshly prepared and I highly recommend a stop here. Outside is a flatbed truck for you to add your name to – if you can find space that is! Not long after leaving Adrian we say goodbye to Texas and the suicidal Interstate junctions and cross into New Mexico.
We ride for an hour or so to Tucumcari and lunch in Kix on Route 66. Since I had eaten a late breakfast I wasn't too hungry so settled for a relatively light corned beef hash. I usually avoid corned beef in the UK but thought that corned beed in the heart of the steak state should be OK. There wasn't a great lot of difference though my opinion may have been biased a little by crunching on a small stone in the corned beef. We spend some time wandering the main street taking photographs. Many of the businesses along the street had ceased trading and the properties were in decay. One notable establishment that still seemed to be operational was the Blue Swallow Motel which was, not suprisingly, painted in blue. This motel was of the traditional construction with a forecourt surrounded on three sides by rooms but each had a garage built into it. The inside of each garage had wall paintings and many depicted Route 66 scenes.
As we walked back to our bikes, Gary was giving us the hurry-up. There was a storm approaching and he wanted to avoid it. We rode briskly along the Interstate but the high cross-winds made Françoise feel uncomfortable on the back. We got to Santa Rosa and the Route 66 Auto Museum managing to avoid the storm. This museum has a large number of restored cars courtesy of Bozo who runs the local garage. These are mostly classic American cars and gave us another photo opportunity, but not before we enjoyed a well-earned ice-cream.
Not long after leaving Santa Rosa, we turn off the road to take a smaller road to Las Vegas (this is the New Mexico Las Vegas, not the more famous Nevada one). We stop soon after the turn and Gary says he is cutting us loose. We can travel the next section (40 miles or so) at our own pace so long as we rendezvous at the garage at the end of the road at a certain time. The others go ahead and we leave last. This was a fantastic road to ride with amazing views, good road surface and ideal weather. We soon reach and pass Bill who is enjoying the ride. We see Pat stopped (he was getting his camera out). We came up behind Simon and Viv who slowed for photos and before we knew it, we had passed everybody except Neill who we thought must have raced down this road. Then he went past us but going the other way! After leaving last, we arrive at the garage first. This is probably because we didn't stop to take photos. We are both keen photographers but know that some landscapes have to be experienced first-hand and photographs don't do them justice. So, we just took it steady and really enjoyed that stretch of road.
After fuelling up we headed for Santa Fe and our rest day. We were now more than half way and looking forward to a break. We followed part of the old Santa Fe Trail to Santa Fe. This was the least enjoyable part of the day as we were now riding into the sun as we headed west. This would be a problem on other days too.
When we arrived at Santa Fe, we were greeted by something different again. Gone were the traditional brick and timber buildings that we had seen so far. Instead, we saw a Spanish pueblo style with adobe-coloured exteriors. Our hotel was quite central meaning that the centre of Santa Fe and the art galleries and restaurants were within easy walking distance. It would also be good to stay two nights and to not have to pack a bag for loading onto the truck the following morning. We dined out in a pleasant roof-top restaurant that evening. Another good day had passed.

Note that the photo gallery spans several pages – click on the page numbers below the thumbnails on the Photo Gallery page to see more pages of images.
Next: Day 8: Rest Day in Santa Fe