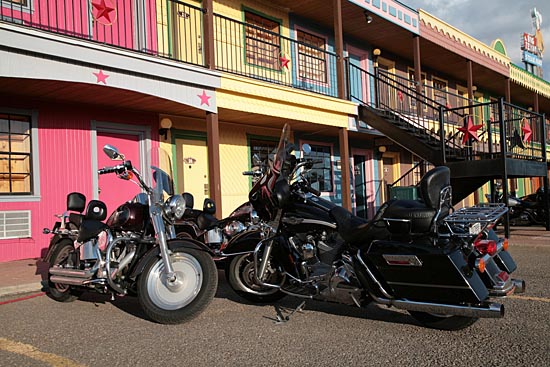 Bikes outside The Big Texan Steak House and Motel
I'll leave you to guess the destination while I hum a Tony Christie song in the background…
Today was a day full of surprises – much to see, much to do, and much to photograph. Our first stop was the Route 66 Museum in Clinton. This is the biggest and best museum we've seen so far and we spent some time there. I spent a lot of time looking for interesting angles to photograph the exhibits while the others watched a film about the early days of Route 66. I bought the DVD so I can watch it at leisure at home. There is yet another gift shop and we extract our wallets once more. I wanted to buy a beige tee-shirt but it was the only design that they had sold out of. This has been my luck so far – I saw a very good leather waistcoat (vest) for $25 at the Route 66 Interpretive Center the day before but did they have my size? Nope! I console myself with a Route 66 key fob to put on the zipper tag of my rucksack to differentiate it from Françoise's.
Further down the road we stop at Elk City for some photos under the big Route 66 sign for their museum there. Then we stop again at a disused section of Route 66 for a brief photo-shoot and ride under some trees that now grow over this section of road. Gary hurries us along as he knows what's in store for us at lunch in Erick.
We stop at the Sandhills Curiosity Shop and are immediately approached by two people in red-striped outfits who welcome us to 'The Redneck Capitol of the World'. They are Harley and Annabelle who are also known as "The Mediocre Music Makers" and deal out what they call "Insanity At Its Finest". We are shown around their home (the Redneck Castle) and then entertained in their establishment on the main street. It's difficult to describe this rather bizarre experience but, thankfully, they have their own blog and they have recently made a film. There are photos in the gallery of them and their establishment. This is also where we have lunch and make our own sandwiches from the bread and cold meats provided as well as grabbing a cold drink. To sum up, these are real characters who have now become part of Route 66 folklore. The road and legend will outlive them but at least we saw them at their finest. It's not something you'd forget in a hurry.
We now cross the border from Oklahoma into Texas and our next stop is Shamrock (the town was given its name by an Irish immigrant, George Nickel, in 1890). This is where we stop to see the wonderful U-Drop Inn. This was built in 1936 and is a fantastic example of the Art Deco style as applied to a garage (gas station) and diner. Apparently, it is even more impressive at night with it's neon accent lighting. In its heyday on Route 66, the U-Drop Inn was the only café within 100 miles of Shamrock and enjoyed brisk business. Over the years it changed hands several times, was renamed several times and painted different colours. When Shamrock was bypassed by Interstate 40 and Route 66 decommissioned in 1984, Shamrock became a ghost town and business declined. It no longer was a viable business and the bank took it over before it completely closed down in 1997. Realising the significance of the building, it was added to the National Register of Historic Places thanks to efforts of various State and local historical associations. With help from the city of Shamrock and government funding, this building now has recognition and has been restored to its original appearance and now serves as a museum, gift shop and home of the city's chamber of commerce. (There is a superb 360° view of the U-Drop Inn at 360 Cities).
Not far from Shamrock is McLean, the site of the first Phillips gas station on Route 66 built in 1929. The fuel was manufactured by the Phillips Petroleum Company and the brand "Phillips 66″ only appeared after its products were tested on Route 66 in a car that was travelling at 66 mph. The logo for the fuel also echoed the Route 66 road signs but had an orange background.
Before Gary shows us the way to Amarillo, we head onto the Interstate and take an exit to an observation area where we have excellent views over the great plains (the Panhandle). The building at this point is half sunk into the ground and acts as a tornado refuge. We were warned to stick to the paths as there are many rattlesnakes resting in the shade of nearby bushes.
We make it to the Big Texan Steak House and Motel in Amarillo in some wonderful evening sun (it had been another hot day). We dine in the Steak House that night but none of our party accepts the challenge to eat a 72oz steak in an hour for free. There is a bar and gift shop associated with the Steak House. The gift shop is a little tacky and even houses a rattlesnake in a vivarium at the end of the shop. The bar is similarly tacky with gimmicks and a funfair-like shooting range and a massive rocking chair. Still, the food was OK. What we did notice was that the further west we went, the less likely there would be bottled water in the room. There would be coffee-making equipment but in a hot area there was no water. It wasn't easy to buy bottled water either and sparkling water (like Perrier) was a rarity. Also, if you wanted tea, it had to be cold flavoured tea – no hot tea with milk. If you wanted a cold non-alcoholic drink it was either Coke, lemonade of some kind, root beer or iced tap water. I can't say I was fond of the taste of their tap water.
Today was a packed and interesting day with lots of photo opportunities. As each day passed, what we saw and did just seemed to get better and better. At least, the wet and windy weather of Oklahoma fast became a distant memory.

Note that the photo gallery spans several pages – click on the page numbers below the thumbnails on the Photo Gallery page to see more pages of images.
Next: Day 7: Passing Through Texas