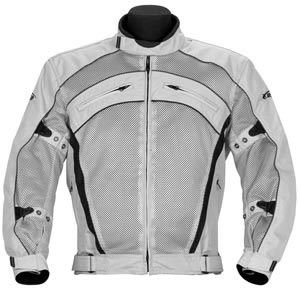 Spada Fighter Air Jacket (Silver)
Clothing is an important part of the preparation for this trip and I'm conscious that I haven't said too much on the subject lately. So, a quick round-up of where we are.
Firstly, I bought Françoise and myself a Nolan N43 Air Helmet each for Christmas. I had this kitted out with the N-COM Bluetooth communication system. The dealer, Ultimate Bike Gear, kindly fitted the comms to the helmets for me prior to delivery and tested it out. Mike Frohock at Ultimate is a bike enthusiast himself and has been very helpful with the selection and purchase of these helmets (I believe in supporting local dealers who give good service). We've not had much time be out on the bike this year so far to try it out but we did one trip up to Peterborough with the system. First thoughts are that it works very well and is quite unintrusive. The range is also good – Françoise can be a good few metres away and she still sounds as if she is breathing down my neck! Sound gets a bit drowned out over 60 mph but we've yet to fine-tune the volume and my Bandit has a high screen which puts a wind blast onto my helmet (I have short legs and a tall trunk which doesn't help). Plus the fact that this helmet is designed to have air flowing through it and so I don't expect it to be too quiet. I am planning to change the Givi screen shortly. Anyhow, the screen on the Harley cuts out a lot of noise so I don't expect noise to be a major problem on the trip. The batteries only lasted for about 4 hours before they shut the comms down but, then again, I hadn't trickle-charged them since picking up the helmets from the dealer well before Christmas. In all, this is the best comms setup I've had so far and I anticipate that it's going to be a great help on the trip.
We sorted out jackets last year by buying Spada Air Jackets. We chose the silver version as opposed to black – after all, if you want to stay cool when riding in desert regions, why wear black? Silver is much more reflective of heat. The mens version is called the Fighter Air Jacket while the ladies version is called the Suzy Air Jacket. Both have large mesh sections on the arms and chest and have armour, are lightweight and relatively cheap (approx £90 each). They also come with a waterproof overjacket though I'm still pondering whether this will be waterproof enough for a real downpour in the States. Many thanks to Cambridge Motorcycles for ordering in these jackets for us try and their endeavours to help us find the best solution.
I've already mentioned that I bought the Sidi boots and will also take my BMW Sneakers. Françoise is looking for another pair of boots. Her Alpinestars might be OK in the UK but in the US under hot conditions, her feet may not be so comfortable and she also needs a boot that she can walk around in when she gets off the bike. I might find a cheap pair of summer gloves that I don't mind getting soaking wet if it rains – my BMW Airflow Gloves are good for hot weather riding but they aren't cheap and I don't fancy ruining them. I see that Hein Gericke has some cheap summer gloves that I'll look into. I also need another pair of trousers. I am looking at a pair of BMW City Denim trousers but suspect that the leg will be too long. I'll probably go for another pair of Hood Jeans since I can order these direct from the factory in Norfolk and specify waist size and leg length.
There are other riding sundries for hot weather travelling that I am looking into but these will be the subject of another post once I've done my research.